About
ESAI Energy is an energy research and forecasting firm that has provided a wide range of services to global energy-related companies since 1984.
Analytical approach.
ESAI Energy's analytical team maintains a historical database that begins in 1978 for critical industry attributes: consumption, production, and inventories for crude oil and each petroleum product, natural gas liquids, refining capacity and throughput, alternative fuels, and petrochemical and midstream blending inputs. In addition, ESAI Energy's analysts track fuel specifications, government regulations, and trade flows. Using these data and knowledge of economic and political trends in each country, analysts project supply and demand for crude oil, natural gas, and all derivative products from one week to 25 years. These projections inform the published analyses provided to our clients.
As a result of this ongoing analytical effort, ESAI Energy has a unique capacity to quickly answer complex industry and market questions related to any country or product and provide actionable insight to our clients.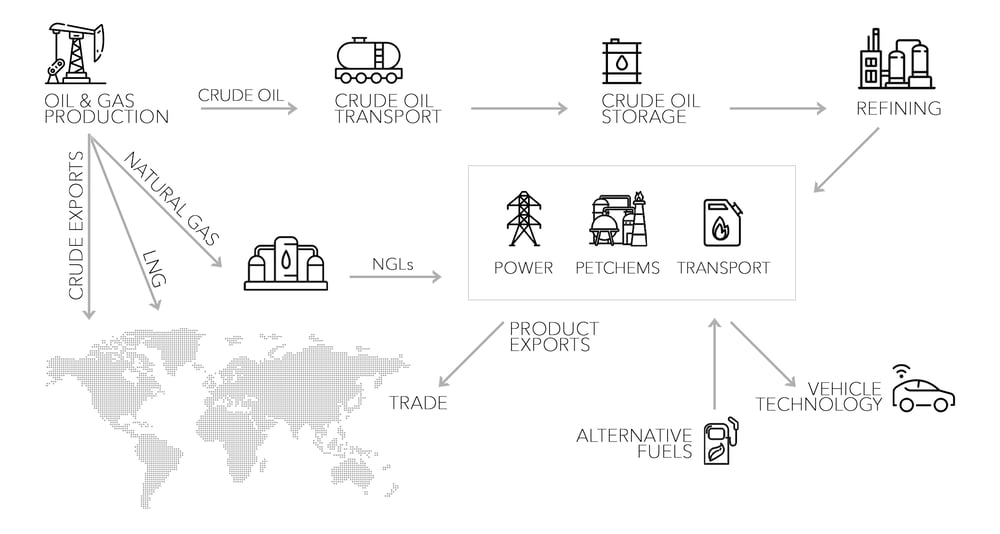 25
Monthly published market reports on energy and more.
36
Years of experience in energy market analysis and forecasting.
133
Individual countries are included in our database.
1978
The first year of the ESAI energy Proprietary Database.
What our customers are saying.

"ESAI's analysis team, and their own executive leadership, have always been a phone call or email away to help in a bind or to make sense of questionable developments in the market."

"We could not have kept up the quality and consistency of market analysis for our department head, our CEO, Board, and the Operations team without ESAI."

"The relationship is personal, and the product suite such a great fit that you'd swear they were co-workers a few seats over."

"ESAI Energy's report analyses always have something interesting in them I didn't know and haven't seen elsewhere."

"Willing to customize some data to make it more useful without making you jump through hoops."

"ESAI Energy is the only firm in the industry that provides comprehensive refinery-level data."